Young parents often come to The Care Center, given that they have all dropped out of school, with the initial goal of passing the High School Equivalency exam. We work from the onset to expand that goal. Our talented staff makes learning exciting and engaging as students begin to see themselves as learners. This is the first step, we believe, in changing the narrative of failure that so often defines our students.
Often young women arrive not seeing themselves as smart or capable. In these early stages of a student's relationship with The Care Center, we see a critical component of our work as transforming a student's view of herself and her future. We want to shift the narrative from one where education is disempowering, to one where there is a love of learning. Building confidence is at the top of our agenda.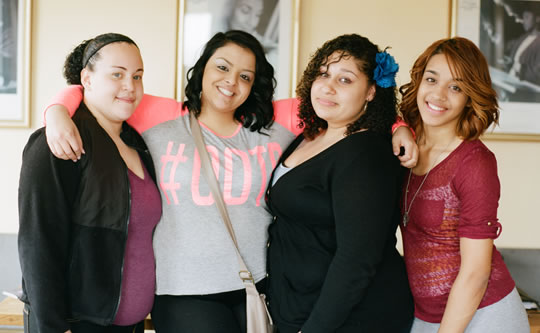 The Care Center was the only place where not only did I hear I would pass, I was told that I must. The first place to offer me a yes, when the world shouted no.
The enhanced program offered at The Care Center integrates basic High School Equivalency test preparation courses with the arts, poetry, humanities courses, a summer science and math institute, and athletics. The curriculum is designed to challenge students to pursue and attain ambitious academic goals in preparation for college. Traditional test prep courses for the high school equivalency exam are conducted every morning, five days a week, in combination with an afternoon curriculum that features college-preparatory courses and extracurricular, enhanced educational and sports activities. While all students are required to participate in both the morning and afternoon curriculum, the afternoon courses are offered as electives, with students choosing three of approximately 6-8 available courses or activities.
One of the most successful aspects of the curriculum is the multidisciplinary nature of each activity. Art may be incorporated into a science project or history lesson, for example, or students may be asked to apply moral philosophy to parenting decisions. In this way, young women see the connections between different aspects of their education, and are able to approach their lives, decisions, and goals in a more holistic manner.
Skilled tutors enhance our faculty's work, building faith and filling in knowledge and skill gaps with students as they move toward passing their high school equivalency tests.