Bridge to College helps Care Center students prepare for college through exposure to college-level coursework. Initially, a handful of Care Center students and one of our faculty members would audit a course at a local community college. We found that this experience had a profound effect on our students, building confidence as they learned effective study skills and had an experience of academic life on a college campus. We were thrilled but not surprised to learn that our students were among the top students in the courses. This led to the next clear opportunity: students taking college level courses for credit while working on their high school equivalency exams.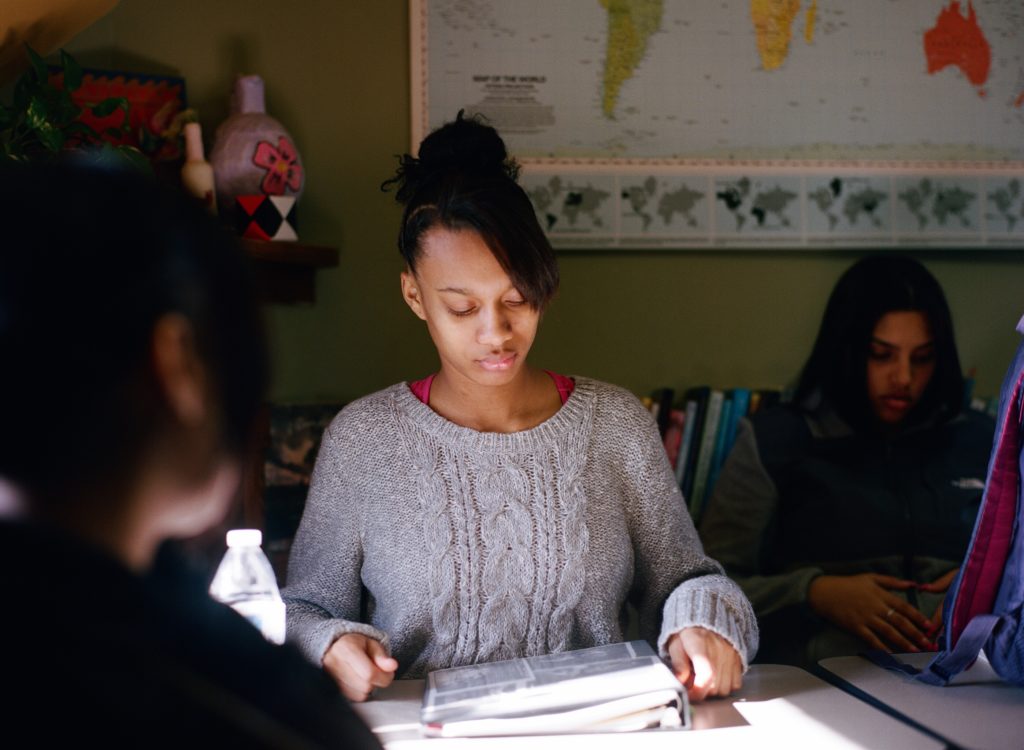 Since then we have collaborated with Greenfield Community College to design Humanities 108, a college course for credit offered to both our High School Equivalency students and those who have graduated but have not yet matriculated or have had to take a break from their college pursuits. Humanities 108 is a course that uses historical, literary and philosophical texts to examine one "big" question each year, such as "what is true love?" Or "how can my life mean something?" The course is designed to introduce students to the world of big ideas, complex questions, and engaging texts. Throughout the course, reading, speaking and writing skills are improved and a fundamental excitement about the material is fostered. It is one semester long and awards the graduates three college credits. The course also serves as a great preparation for The Clemente Course for the Humanities and other college level courses.
Barbara Tramonte, one of our Humanities 108 teachers, said of the course, "What hit me between the eyes, or maybe in my third eye, was the uplifting breeze the students generated which carried our community of learners aloft. Mostly I remember the connections the students made while reading "A Raisin in the Sun", the poems of Langston Hughes and other Harlem Renaissance figures. Their delight in reading the play out loud, their unique insights and thoughts, their spunk and understanding brought a layered understanding to race issues our country is still grappling with today."
World Religions has also been offered through a partnership with Elms College. This challenging academic course is designed to heighten both world and religious awareness, while increasing reading and writing skills. Field trips have included an overnight trip to New York City where a mosque, synagogue, cathedral and Buddhist temple were all visited, and a trip to the Nipponzn Myohoji Peace Pagoda in Leverett, MA.