Experiential learning that occurs in sports reinforces abstract classroom concepts in such disciplines as math, physics, and science, which is undoubtedly one reason that extensive athletic opportunities are provided at preparatory schools.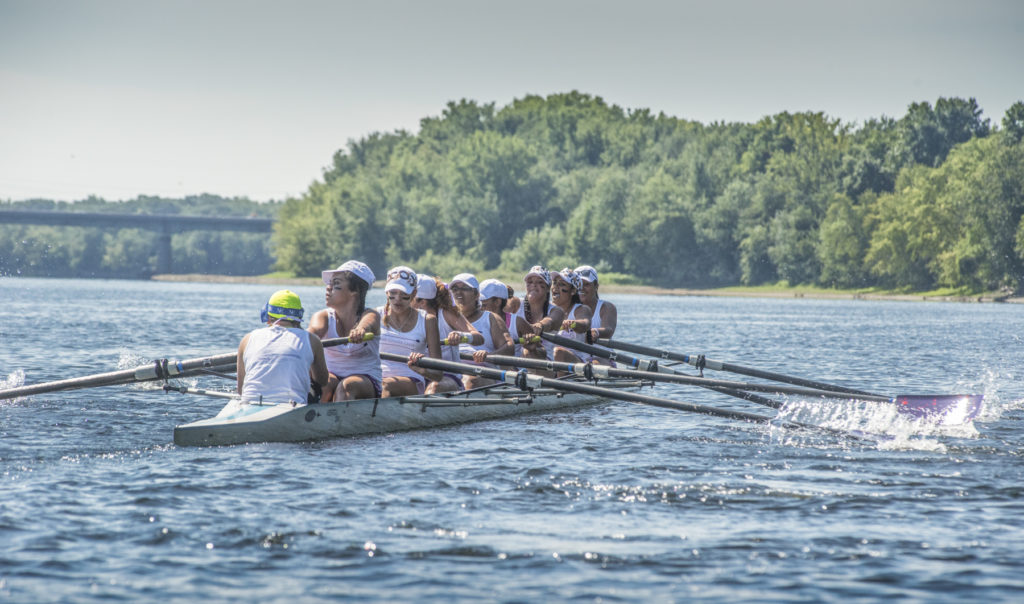 The Care Center athletic program was launched with Rowing Strong, Rowing Together, a program developed as part of a larger effort to enhance learning and extend the range of experiences available to teen mothers. Those who participate in the rowing program often have transformative experiences. Some talk about how being in the boat has taught them to be more patient with their friends and their children. Others speak about the sense of silence that they felt on the water, and the sustenance they received from it. Some came to better understand the need for cooperation and teamwork. Others simply expressed how satisfying the work of rowing was for them. And for many students, the abstract terms they are learning in the classroom become crystal clear. These expansive opportunities happen in our other athletic offerings as well.
All students are required to take athletic classes. Depending on the year and season, electives may include rowing, bowling, cardio hip hop, swimming, water aerobics, yoga, and Zumba.
Rowing Strong, Rowing Together
This unique program is the only one of its kind in the country, and is designed to bring a high-quality, team-building athletic activity to a population of young women across New England who would otherwise have little or no access to these kinds of opportunities. This program was launched in partnership with Mount Holyoke College.
Rowing provides an opportunity for a number of important lessons that impact self-esteem, community building, and the experience of mastery. It is an especially powerful sport because of its unique combination of individual and team. Each rower is dependent on the actions of the others in the boat, yet each has the space and ability to focus on her own progress and technique. Rowing is a sport where the connection between hard work, discipline, and progress is easily understood. The more you row, the stronger you get. The link is very direct both physically and emotionally. It is clear that rowing presents numerous experiential opportunities to learn about physics, spatial relations, science, and the environment. These are all areas that young women might be apt to shy away from, particularly this population who have experienced school failure at such an early age.
We have initiated rowing programs for young mothers in Connecticut (New Haven, Bridgeport, Hartford and Middletown), New Hampshire (Hanover), and Massachusetts (Springfield, Boston, Pittsfield and Holyoke). In August, participating teams compete in an annual Young Parents Regatta on the Connecticut River at HolyokeRows, the city's own community boathouse.