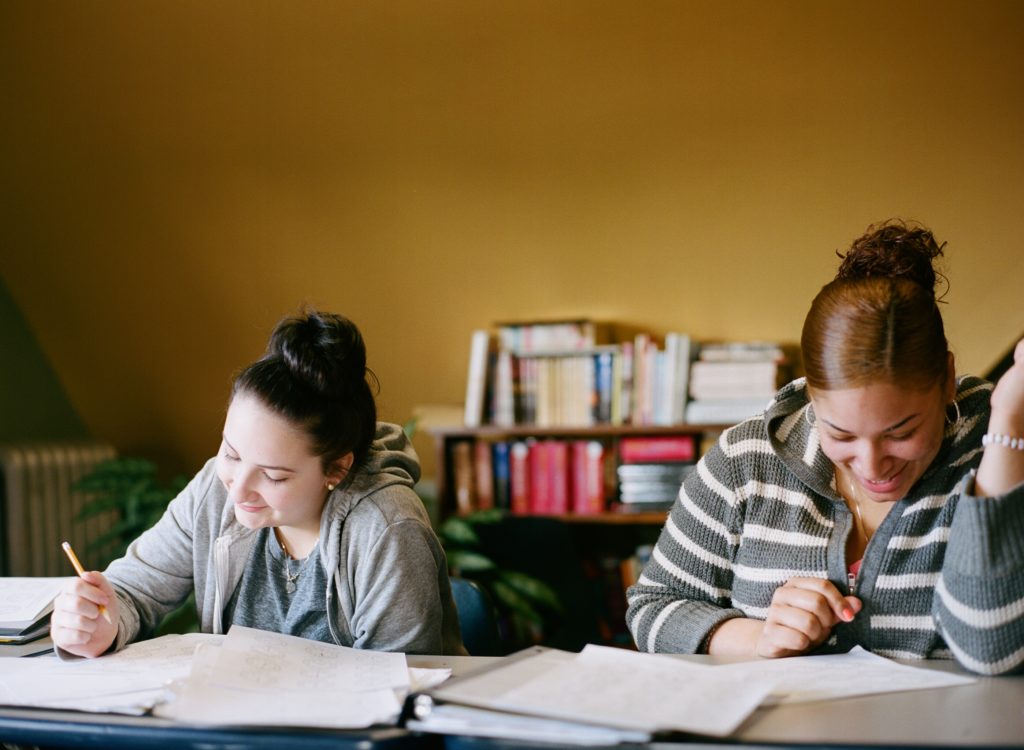 Education forms the foundation of a strong economy, a functional community, and a sound government and democracy. But at its base education has the ability to satisfy a very basic need — the desire to understand our world and our particular experience of it, the need to passionately be in the world, the desire to grasp the knowledge gained from those who have come before us. All students, regardless of their economic background, have intellectual hunger and capacity.
Our key operating assumption is that people of means and people in poverty need the same things.
We have designed a program in which teen mothers not only pass the High School Equivalency exam, but go on to college. We do this with a powerful combination of arts, humanities, athletics, high expectations, and persistent and convincing messages about the importance of education — particularly higher education. Our expectations are high and our support is exceptional. As in the best prep schools in the country, we do whatever it takes to see that our students succeed. Since opening its doors in 1986, The Care Center, has worked with thousands of teen mothers and their families as they continue their education and move toward greater self-awareness and economic stability.
Class sizes are small, and the student-teacher ratio low, allowing substantive connections between adults and young people. The arts bring forth unimagined possibilities, and the athletic component is like a hands-on lab which illustrates the lessons of physics and mathematics while allowing for the experience and satisfaction of teamwork and discipline. Our expectations are high and our support is exceptional. As in the best private schools in the country, we do whatever it takes to see that our students succeed.
The teen parent education program includes High School equivalency test preparation classrooms, art, poetry and creative writing classes, and computer classes, parenting education, career exploration, college transition support, and numerous courses offered for college credits including The Bard College Clemente Course in The Humanities that has been offered at The Care Center for nearly two decades.
The education program is offered year-round five days a week and is augmented with an athletic program that features the innovative Rowing Strong, Rowing Together, a program created in conjunction with Mount Holyoke College and now involving numerous teen parent programs throughout Massachusetts and nearby states.
Our approach has proven to be successful with young people who are still in the public schools, too. The Care Center works with in-school youth at the Teen Resource Project, an after-school youth development teen pregnancy prevention program. Now in its 27th year, this program is the oldest youth development program in the city, and is offered in collaboration with the Peck Middle School and numerous community partners to young people who are at risk of dropping out of school. These powerful collaborative programs are representative of the many efforts underway at The Care Center. As a vital and vibrant organization, we are always in the process of developing new approaches, new partnerships, and new responses to the needs of the young people who use our program.